Deactivate dynamic content versions
Dynamic content versions can be activated and deactivated and reactivated. To deactivate a version press the "pause" button on the version's title and then click on "update" to save changes. Repeat this action if you want to reactivate the version.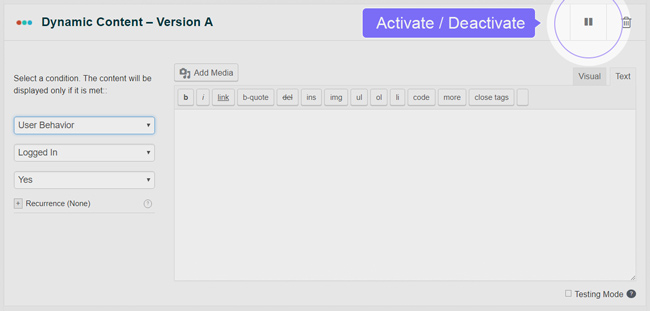 Testing mode
The testing mode suspends all other versions and allows you to display a chosen content version, whether the version's conditions are met or not.
Why and when is the testing mode option helpful?
In some cases you will not be able to see dynamic content when you visit your website because the condition has not been met (ie., you have created a geolocation condition to show different content to visitors abroad or you have scheduled a version to be displayed at a specific time or date, etc.). Testing mode allows you to preview this content will appear on your website. After checking, click on update/ publish for changes to take effect.