The terms are similar to the ones on AppSumo. Click here for the full details.
We will manually send you AppSumo codes after the purchase
Stack up to a maximum of 5 codes, including those purchased on AppSumo.
60-day refunds
Unlimited use of all the conditions except the geolocation
The deal has ended – Click here to see our alternative AppSumo deal
Frequently Asked Questions:
How to stack an AppSumo code?
Log in to your account
Click the "License keys" tab
Apply your AppSumo code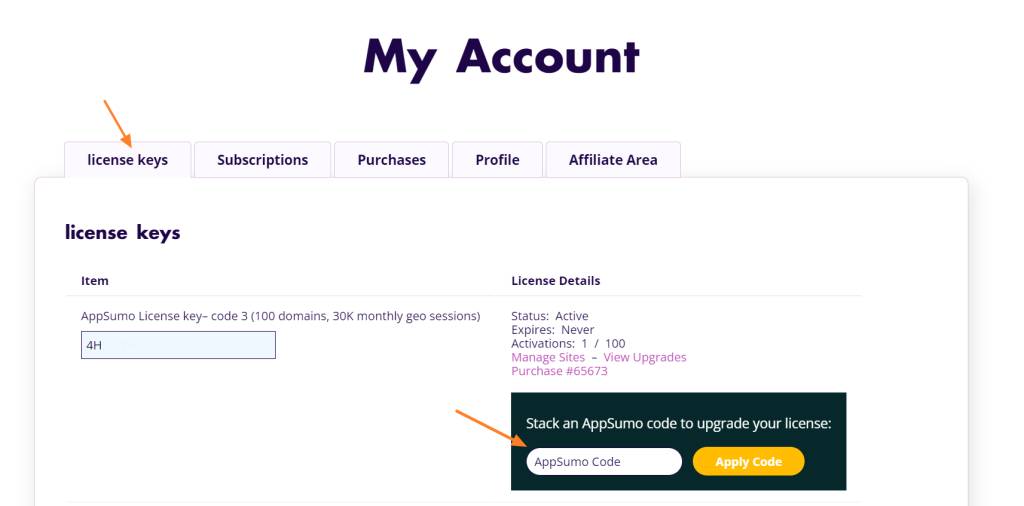 With 100 websites, is it 30K geolocation sessions/month per website, or is it the total?
The 30K geolocation sessions are in total for all the websites. The sessions do not have to be split equally between the websites.
Note that the geolocation condition is the only condition limited by sessions. The rest of the conditions can be used freely.
If you need a larger amount of geolocation session you can upgrade your geolocation license.
See your options for geolocation plans.
AppSumo Refunds
Refunding AppSumo codes is done on your AppSumo account.
Go to the "Products" page of your AppSumo account.
Select "Refund" under the Actions dropdown next to the product you want to return (note: this will be grayed out if your refund window has passed or if the tool is ineligible for a refund).
Click the "Initiate refund" button under the refund instructions.
Select a refund reason and click the blue "Continue" button.
Choose your refund method (if applicable) and click "Confirm and initiate refund" to finalize your refund.