If you are using WooCommerce as the sales platform for your website, you are going to love our WooCommerce integration. It's an easy way to increase sales, reduce advertising expenses, and increase your ROI. Best of all, the results are immediate.
TL;DR
Display dynamic content to your visitors based on:
Product/category purchsed
WooCommerce and If-So Conditions
Product in Cart
Show dynamic content based on the products your customers place in their cart. This condition is great for cross-selling and up-selling, some of the easiest ways to improve sales and revenue.
Eg. If a customer places an iPhone 12 in their cart, offer a case to fit the phone.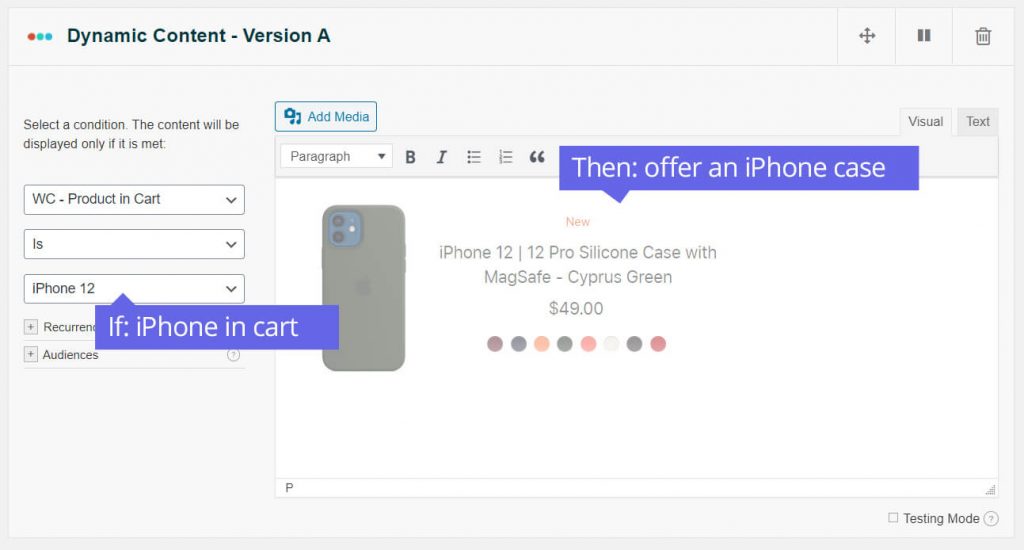 Product/Category Purchased
Show dynamic content based on the product or product category your customers purchased from.
Eg. Offer the perfect shirt that would match the jeans they previously purchased.
Customer Details
Show dynamic content based on a customer's billing or shipping address, their city or country, or even postcode.
Eg. Offer sales to customers purchasing products during holidays, like Labor Day sales in the US, or Chinese New Year in Asia.
Units in Stock
Show dynamic messages based on the number of units in stock.
Eg. Get must-have products before they go out of stock and increase user experience while keeping customers coming back for more.
Total Spent
Display different messages based on the total amount a user spent on your site. Notify them when their total amount spent has qualified them for a discount or free shipping.
Number of Orders
Display content based on the number of orders customers have made on your site.
Average Order Value
Create dynamic content based on the average order value of your customers.
Eg. When a customer reaches an average order value you can prompt them with messages to buy more items from your site and qualify for bonuses like free shipping.
Number of Items in Cart
Display dynamic content to customers when they have reached a certain number of items in their cart.
What is If-So?
If-So is a simple WordPress plugin, allowing you to add or replace dynamic content on your website based on the visitors' profile or interaction with the site. Personalize your visitor's experience and they will engage, convert, and buy more! More info on our homepage.
Screenshots